What is the UWC?
The Urban Wine Club was created to offer our members unique wine experiences. Our expertise in wine and our long history in event planning have been combined to create a community of like-minded wine lovers and amazing events! From wine socials to dinners to seminars, the Urban Wine Club is the premiere destination all around the greater Boston area. We inform you of the best events from the best vendors and organizations, not to mention our own branded events which are unmatched! Be part of our community and enjoy knowing that you are in good hands.
Who are we?
Fotios "Frank" Stamos' heritage and career in sales, marketing, and hospitality are the foundation for his chosen path and career in the wine industry.
After graduating from Boston College in 1997, Frank worked as a public relations and event director for a Chicago-based magazine. He then accepted a sales position with a major wine importing company devoted to marketing and developing wines from Greece, beginning a decade in the wine industry as beverage manager of Legal Sea Foods, the nation's largest privately owned restaurant group, and as a brand representative for Stellar Imports, importer of fine Greek wines.
In 2003, Stamos was named general manager and beverage director for Boston's premier Greek restaurant, Meze Estiatorio in Charlestown, MA. There, he achieved national acclaim for developing the country's first and only all-Greek wine list, which was lauded in Wine Spectator, Ritz-Carlton magazine, and numerous Boston-based magazines.
In 2014, Stamos put his wine passion into his first wine shop in North Andover, MA, called The Cork Stop. The wine boutique features a stock that is personally curated by Stamos and offers private wine tastings at people's homes with the vintners themselves, whenever possible. He also offers educational wine seminars on and off site.
In addition, Stamos is a partner of AtTheGreekTable, which is a joint venture with culinary expert and Chef Paul Delios, and is devoted to preserving and promoting Greece's food and wine culture while introducing food enthusiasts to contemporary Greek recipes. Frank is also a published author for his wine pairings in the AtTheGreekTable cookbook.
---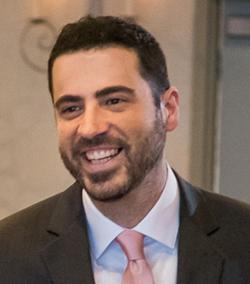 Ari Kalos has been working professionally in the internet arena for almost 20 years. Starting out as the webmaster for a Savings & Loan bank, he learned the intricate ways to work in a strict legal environment while building and maintaining their website. Ari was also the youngest recipient in the history of the prestigious Banker & Tradesmen Technocrat award. It was during this time that he started his own web startup which, over 10 years, was funded in 2010 and then sold in 2012.
Ari then moved to EF Education and developed educational travel websites for EF – the largest educational travel company in the world.
He next moved on to a $100 million internet entertainment startup iCast.com, which was an entertainment company dealing with music and movies. iCast was one of the first companies to develop social media applications and offer social media services. Ari was a producer for the music channel and he dealt with developing services for artists and their record labels.
Next, Ari worked as an interactive project manager for RDVO, Inc., a multi award winning interactive agency that includes clients such as Microsoft, Gillette, the Boston Red Sox, and many Fortune 500 companies.
His last corporate position was the SEO and Social Media Manager for global staffing agency Aquent, LLC located in Boston's Back Bay.